Eh, not so much. I honestly don't feel like it. Sorry, I have had one of those days where you just want to sit on your couch in your night gown and watch Phineas & Ferb marathons.. Well not Phineas & Ferb for most people.. but I would:) Because they are amazing!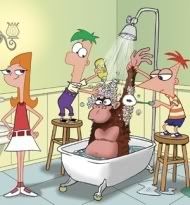 "there's a hundred and four days of summer vacation and school comes along just to end it so the annaul problem for our generation is finding a good way to spend it like maybe building a rocket or fighting a mummy or climbing up the eiffel tower discovering something that doesn't exist or hey giving a monkey a shower, surffing tidal waves, creating nanobots, or locating Frankenstein's brain "it's over here" finding a dodo bird, painting a continent, or driving your sister insane. As you can see there's a whole lot of stuff to do before school starts this fall, so sitck with us cause Phineas & Ferb are gonna do it all:) stick with us because Phineas & Ferb are gonna do it all!"
I may or may not be a huge fan of this show.
Ferb is my celebrity crush:) Fo'real.
How could he not be? He has an english accent... It's a given:)
Either way, I love this show:) I may or may not watch it everyday!!
There is two pictures I want to post from the wagon train.. just because I hold them slightly dear to me. They are pretty precious *in my opinion entirely.

This is my Clayton & Chad:) Clayton's first horseride ever! It's so precious.
& this is Chad & Andrew *Uggums & Madam are the horses:) I think it sortah just shows the "brotherhood", I don't know it's sweet.