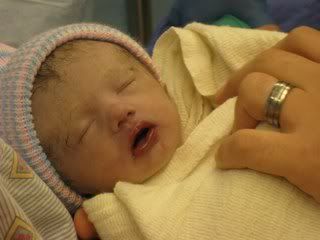 You're in a better place, I've heard a thousand times. & at least a thousand times, I've rejoiced for you. But, the reason why I'm broken, the reason why I cry.. is how long must I wait to be with you?
Johanna would have been 9 months old today.


Help me Lord, 'cause I don't understand your ways. The reason why I wonder if I'll ever know. But, even if you showed me, the hurt would be the same. 'Cause I'm still here so far away from home.
Isn't it amazing how a little girl that never uttered a word, spoke volumes to so many people?


I close my eyes, and I see your face. If home's where my heart is, then I'm out of place. Lord, won't you give me strength to make it through somehow. I've never been so homesick than now.
I still don't understand what happened, nor do I understand why. I know, that I will carry her with me no matter where I go. & when I get the chance I will tell her testimony. It's the purest, strongest, and inspirational testimony I've ever heard. Because of her, I get to share the love of Jesus wherever I go.


In Christ, there are no goodbyes. & in Christ, there is no end. So I'll hold onto Jesus with all that I have. To see you again.
She isn't the only reason I hold onto Jesus. I hold on to Jesus because of what he has brought me through and showed me in my life. Because, one day he pricked my heart and saved my soul. She's just an encouragement.
"I will praise thee for I am fearfully and wonderfully made, marvelous are thy works; that my soul may knoweth right well."
-Psalms 139:14