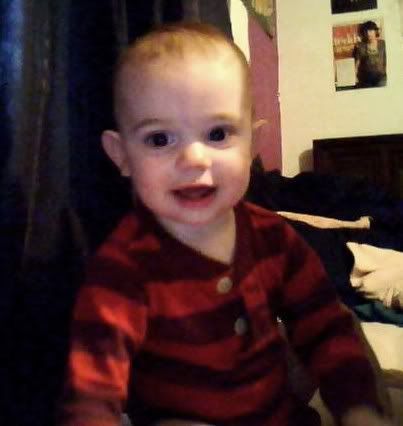 Happy birthday Clayton! You will never know how much you mean to me. I know you can't read this and by the time you get old enough to read it I will probably be over my blogspot benge.. I tell you all the time when you are at my house, while I'm rocking you to sleep how much I love you, and what you mean to me. You can't understand me right now but someday you will.

I hope I never disappoint you. But if you ever think that I'm doing something the wrong way and I'm not setting a good example or I am being a disappointment, Tell me. I never knew someone so small could take as huge as a spot as you do in my life. I thank God everyday for you. I thanked Him for you before you even got here. We all waited so long for such a precious thing. The anticipation just made my love grow for you.

Offically February 15, 2008 marks the absolute best day of my life. You are my baby boy (well not technically). But you are my baby no matter what mawmaw, or your mom says. Haha, I know you are their baby too.. I am just overwhelmed because someone has never meant so much for me. I would just about give my life for you to see you happy.

"Just to see you smile, I'd do anything that you wanted me to. When all is said and done I won't forget the cost, it's worth all that's lost.. Just to see you smile" Always remember that.

I Love You Clayton.

Love,
-Aunt Jamie.